Pizza sauce made with fresh tomatoes.  That's right, time to stop using store bought pizza sauce and make your own. It's so easy to make and freeze-able for a quick supper some other time!  Not to mention the flavour is 100 times better.
I don't know what it is about this week, but I've been incredibly tired and it's been really hard to get anything done.  Anyone else feel that way?  As much as I haven't felt like cooking, we've all got to eat, and I had bought a basket of tomatoes at 50% off that needed to be used.  Pizza for supper it was!  Tomorrow I'll be sharing my favourite pizza, a simple pizza margherita.  The crust I make is perfect, so you'll want to tune in tomorrow for that
This is a delicate sauce that really plays on the freshness of tomatoes.  If you like a lot of herbs in your pizza sauce, up the oregano and add some thyme and basil.  If your tomatoes aren't very sweet, add a bit of sugar.  It's really hard to mess this one up.
A food processor does make a quick job of it, but I've done it by finely chopping the veg and its great that way too.  We like to leave ours chunky, but you can blend for a smooth sauce.  Hope you give it a shot and love it as much as I do!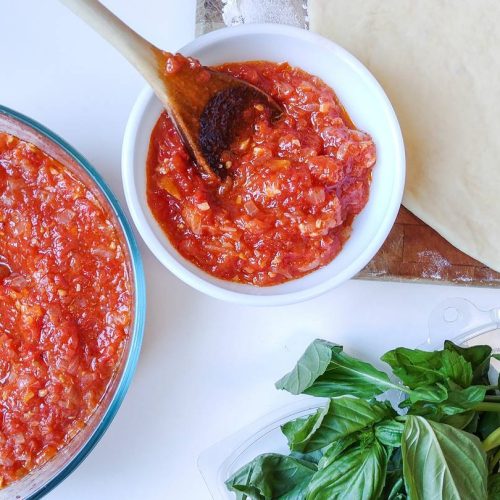 Fresh Tomato Pizza Sauce
A delicious fresh sauce to use up summer's bounty of tomatoes. Easy to make and can be frozen, so make a double batch and enjoy fresh sauce even when tomatoes aren't in season! Recipes makes enough for about 3 12" pizzas, or 2 cups sauce.
Ingredients
8

Plum Tomatoes

1

large Yellow Onion

3

cloves

Garlic minced

1/4

cup

Extra Virgin Olive Oil

3/4

tsp

Oregano dried

1/2

tsp

Salt or to taste

1/2

tsp

Black Pepper or to taste
Instructions
Heat the olive oil in a saucepan over medium heat.  Roughly chop the onion, add to a food processor and blitz until finely chopped.  Add the onion to the pan and cook for 5 minutes, or until translucent.  Do not let the onion brown.  Add the garlic to the pot, cooking for an additional minute.

Roughly chop the tomatoes, add to a food processor and process into really small pieces. Once the onion is cooked, add the tomatoes and their liquid to the pot, along with the remaining ingredients.  Simmer on low heat for 30 minutes to 1 hour, or until thickened. This will vary based on the amount of liquid the tomatoes give off. Puree for a smooth sauce or keep chunky, makes around 2 cups of sauce.
Notes
** Add 1-2 tsp honey or sugar if the tomatoes are too acidic.  Freeze in a large 6 cup muffin tin for the perfect individual portion of sauce each time.  Once frozen in tin, remove to a bag for up to 3 months.**
The recipe is credited to Nicole and Katherine – The former owner of SaltwaterDaughter.com.