A last minute recipe, for all you procrastinators out there (hint hint – it's us)! We are sharing our Mom's Best Newfoundland Snowball Recipe, also known as boiled oatmeal cookies. This is an extremely popular recipe in Newfoundland and you'll be hard pressed not to find these in every home this time of year. They're also a popular bake sale treat. The reason why? They are so easy and quick to whip up, no baking required, and they're delicious!
All that being said, not every snowball recipe is a good one. Some are dry and lacking in chocolate flavour. So we thought it only fair to share our mothers cookies. They are fudgy, chewy, never dry and just friggin' delicious.
One important thing to note: the variety of coconut you use will affect how moist they are. A fine coconut grind (dessicated) will have more of a coconut flour effect, and absorb a lot of the moisture, resulting in dry cookies. It's great for giving a white uniform exterior, but we do not recommend it for inside the cookies. Mom uses a medium unsweetened, and we've used large shredded unsweetened coconut to good results, but they will a bit harder to roll into balls.
Sorry we've been M.I.A. for the last few months. We hope to have more time to get creative in the kitchen after Christmas! Happy Holidays everyone, hope you enjoy your time with family and friends! Enjoy the experience of savoring these delicious snowball cookies and sharing them with others!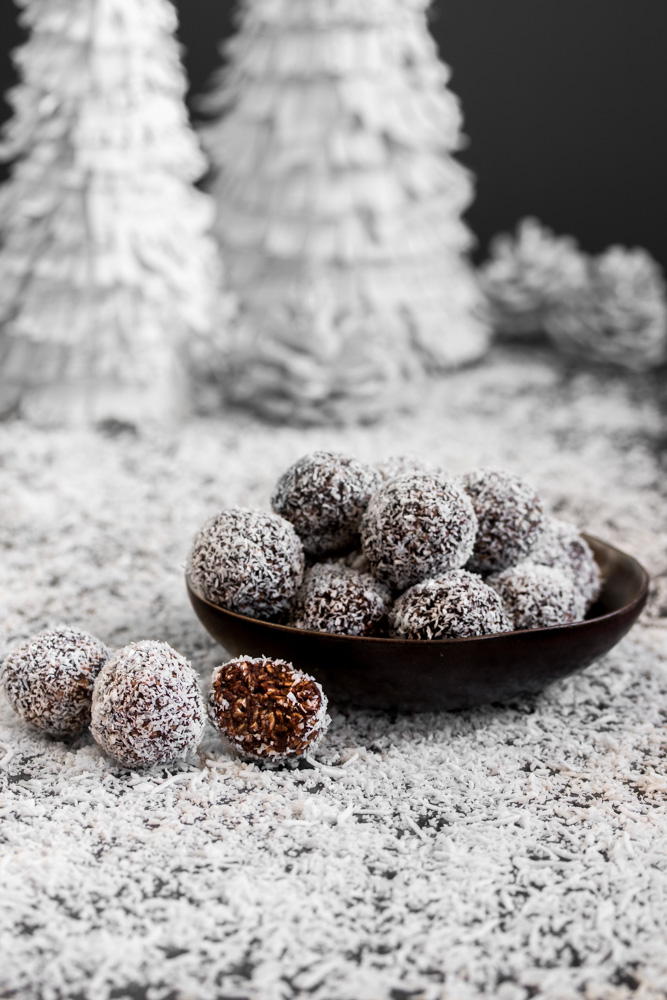 Mom's Best Newfoundland Snowballs (Boiled Oatmeal Cookies)
A delicious and easy no bake cookie that everyone will love! Full of chocolate flavour with a delightful chewy texture from the oatmeal and coconut. Bonus: They're also gluten free!
Ingredients
2 1/2

cups

quick cooking oatmeal

not instant

1

scant cup

medium unsweetened coconut

plus 1-2 cups extra for rolling

1 1/3

cup

sugar

1/2

cup

carnation milk

or 10% m.f. cream

1/2

cup

salted butter

1

tsp

vanilla extract

1/2

cup

cocoa powder
Instructions
Whisk together the sugar and cocoa powder in a large pot.

Turn the heat to medium high and add the butter. Stir until all mixed together and free of lumps.

Add milk and vanilla and bring to a simmer and cook until sugar is dissolved, about a minute.

Add the coconut and oats, stirring together quickly for 1 minute, then remove from heat.

Let stand in the pot until cool enough to handle. Grease your hands then roll mixture into balls, about the size of a heaping teaspoon (or to your desired size). As you work, roll the balls into coconut and place on a baking sheet to cool.