It may be summer in most parts of the world, but because of a late spring, we are still enjoying springtime foods.  That includes these Vietnamese Inspired Rhubarb BBQ Shrimp Skewers.  We absolutely love rhubarb, it's tart and bright and pairs perfectly in sweet dessert with fruits or in savoury meals with different meats.  And, as a big fan of Vietnamese food, we wanted to create a "fusion" type dish to highlight the rhubarb.  We are so happy with how they turned out!
Traditional Vietnamese foods can include shrimp, fish sauce, lime and chilies.  This recipe combines the tart flavours you might find in a Vietnamese dish with what you might find during summer in Canada and Newfoundland.  Mainly BBQ and seasonal ingredients, because fresh food is only available half of the year, so we got to make the best of it!  As such, we came up with a bbq sauce that is sweet and tangy bbq that pairs excellent with shrimp.
We topped them with some chopped peanuts, green onion and a squeeze of fresh lime juice, which just takes them over the top!  The whole fam jam thought they were really good, even the ones who don't love shrimp. We hope you give them a try and let us know what you think!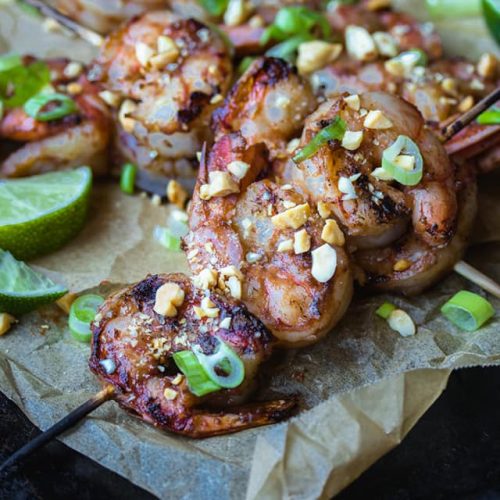 Vietnamese-Style Rhubarb BBQ Shrimp Skewers
Sweet, tangy, delicious bbq shrimp skewers that showcase some of the lovely flavours of Vietnamese cuisine.
Ingredients
For the BBQ Sauce (makes 1 & 1/2 cups)
2

cups

rhubarb

chopped

1/4

tsp

lime zest

juice half a lime

1

tsp

lemongrass

fresh or freezedried

1

tbsp

fish sauce

1

large clove of garlic

2

tsp

chili powder

1/8

tsp

cayenne pepper

2/3

cup

brown sugar
For the Shrimp
300

g

shrimp

peeled & thawed (if using frozen)

1/2

cup

BBQ sauce

2

limes cut into wedges

for serving

1/2

cup

crushed peanuts

for serving

2-3

scallions

chopped, for serving

4-5

bamboo skewers

soaked in water

1-2

tbsp

vegetable oil
Instructions
To make the bbq sauce, boil the rhubarb in a half cup of water until tender.  Add additional ingredients and blend until smooth.

Brush the shrimp generously with the bbq sauce (about a half a cup) and marinate for 1 hr or more.   The remaining bbq sauce can be frozen, or kept for up to a week in the fridge.

Brush grill racks with oil and preheat BBQ to medium high heat.   Prepare skewers, being sure not to overcrowd the shrimp to allow even cooking.

Grill skewers for about 2 minutes per side, or until shrimp are cooked through.  Serve immediately with lots of peanuts, lime juice and scallions.
The recipe is credited to Nicole and Katherine – The former owner of SaltwaterDaughter.com.